[Report]the Second Meeting of the World Consortium for Research on Confucian Cultures in Viet Nam
The World Consortium for Research on Confucian Cultures (WCRCC), an academic body dedicated to fostering the collaboration among international scholars on Confucian cultures and their application to real social practices, had the second meeting at the University of Social Sciences and Humanities, Vietnam National University – Ho Chi Minh City, on July 23 to 28, 2016.
The theme was "Confucianism as a Philosophy of Education for the Contemporary World." UTCP joined this consortium and its meetings annually. In this year, Takahiro Nakajima gave a talk "Confucian Education in Modern Japan: Motoda Nagazane, Nakae Chōmin, and Mishima Chūshū" on July 25. What was important in this meeting was the academic involvement of Vietnamese scholars doing education, literature and philosophy into the framework of world cooperative research on Confucianism. Next year we will have the third meeting in Japan, in which we will deepen our research cooperation with international scholars having different types of interests in Confucianism.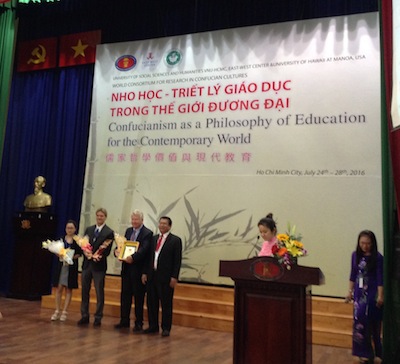 Takahiro Nakajima (UTCP)