[Publication]Zhuangzi and the Happy Fish
The book Zhuangzi and the Happy Fish, edited by Roger Ames and Takahiro Nakajima, was published from University of Hawaii Press.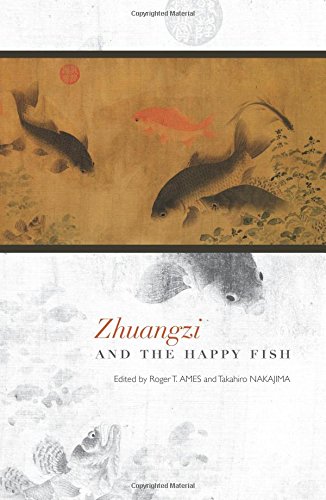 The Zhuangzi is a deliciously protean text: it is concerned not only with personal realization, but also (albeit incidentally) with social and political order. In many ways the Zhuangzi established a unique literary and philosophical genre of its own, and while clearly the work of many hands, it is one of the finest pieces of literature in the classical Chinese corpus. It employs every trope and literary device available to set off rhetorically charged flashes of insight into the most unrestrained way to live one's life, free from oppressive, conventional judgments and values. The essays presented here constitute an attempt by a distinguished community of international scholars to provide a variety of exegeses of one of the Zhuangzi's most frequently rehearsed anecdotes, often referred to as "the Happy Fish debate."
The editors have brought together essays from the broadest possible compass of scholarship, offering interpretations that range from formal logic to alternative epistemologies to transcendental mysticism. Many were commissioned by the editors and appear for the first time. Some of them have been available in other languages—Chinese, Japanese, German, Spanish—and were translated especially for this anthology. And several older essays were chosen for the quality and variety of their arguments, formulated over years of engagement by their authors. All, however, demonstrate that the Zhuangzi as a text and as a philosophy is never one thing; indeed, it has always been and continues to be, many different things to many different people.