[Report] UT-UH Summer Institute for Comparative Philosophy 2014 (6)
This is the report written by Ms. Chenyu Yao. This report shows how the lectures on 14th was given by Professor Takahiro Nakajima and Professor Roger Ames.
We had Professor Nakajima and Professor Ames as our instructors today for New Universality of Tang Junyi and Justice in Confucianism with group presentations on traditional Chinese texts. Hisato-san, Shotaro-san, and Yui-san went to Center of Philosophy for Children, and all of us gathered at Professor Ames's place for a wonderful dinner.
In the morning, Professor Nakajima elaborated Tang Junyi's ideas on how to achieve universality by morality through democracy and science. For Tang, neither science nor democracy can complete the achievement of universality since applied science are more often than not manipulated by private desires while democracy is not sufficient without virtue, perfect personality or morality. Thus culture and education are important to cultivate people and complete the process. This idea naturally extends to the question what kind of culture and education best carries the duty and Tang answered that central states with higher moral motivation and better cultural contents should. This brought a hot debate on the hierarchical division between center and periphery as well as the possibility or feasibility of the kingly way. A variety of interesting questions were brought as well including the nature of science and eradication of private desires. It was somehow indicated that Tang's efforts to interpret modernity with traditional Confucianism terminology can be problematic.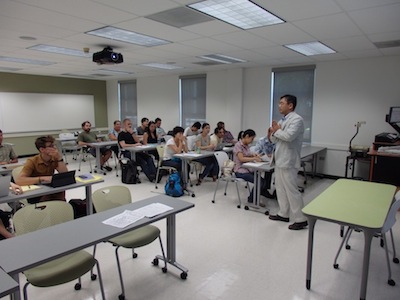 In the afternoon, Professor Ames started the class with a brief introduction to the profound meaning of li, role ethics. He argued that he, harmony, can only be achieved by strategy of li, which is very powerful and rich since every individual has a unique and changing supposed role. After a short lecture, we began our group presentations. Each group has a special focus and they dived into Confucian notions and way of thinking to discuss a wide range of topics including family relationship, human autonomy, body and so on. Personally I am very interested in the ideal state image of drawing people towards it by its cultural attractiveness and the idea that human primarily belong to role relationship and in communicating human is becoming.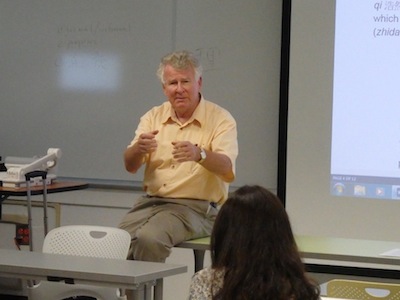 In the evening, we went to Professor Ames's house up on the hill. We had a great time talking with each other and viewing the splendid scenery of sunset. We also had the honor to meet the sponsor of UHUT program and had a wonderful banquet with a variety of dishes together. The day ended in great joy and laughter.
Chenyu Yao (The University of Tokyo)