[Report] Workshop by Prof. Lou Marinoff "The Role of Philosophical Practice in Business"
Prof. Lou Marinoff's workshop "The Role of Philosophical Practice in Business" was held at Ito International Research Center (situated at the Hongo Campus) on May 22nd and 25th. Prof. Marinoff is Chair of the Department of Philosophy at the City University of New York, and is also known as the leading expert of philosophical counseling and philosophical consulting. On both days, business persons from a wide variety of industries came to participate in the workshop.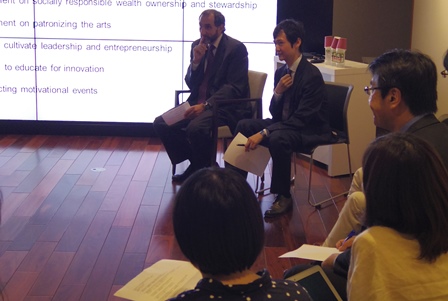 Presumably, those who have studied philosophy have given thought to the question "Is philosophy useful?" Some would think that it is not. Now, if the question is "Is philosophy useful in business?" there would be even more people inclined to answer "no". Indeed, Prof. Marinoff presents nine roles that philosophy can play in business. For example, he says that philosophy can help draft and implement manual of best practices and/or code of ethics. To give another example, he also says that philosophy can give advice on environmental responsibility. Prof. Marinoff, admitting that a philosopher might not know much about business, points out that a philosopher is good at dealing with the abstract, and at connecting the abstract to the concrete. Thus, a philosopher could clarify the abstract values and principles for a company, and link them to actual practices. (Prof. Marinoff also stresses that this would help the company gain customers' trust.)
Prof. Marinoff not only speaks with the members of an organization but lets them have dialogue with each other. The method of philosophical dialogue enables them to go back and forth between the abstract and the concrete by themselves, and thus to reach a decision or principle that they can accept.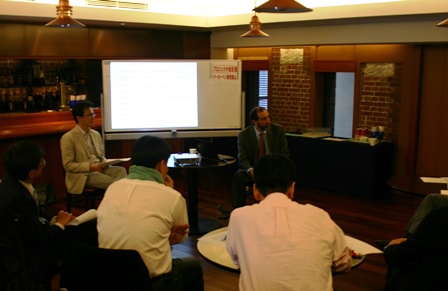 In the second half of the event, the participants played a game based on the prisoner's dilemma and other versions of the game. In these games each participants made a decision by considering what other participants' decisions might be. Prof. Marinoff did not impose any particular topic after playing the games. His purpose was rather to discuss what the participants thought they discovered by playing the games. In the discussion on 22nd, one of the participants said that although the first half of the event was about an organization's doing something for people, the second half made her think it might be difficult to help others. If the participants from various industries felt such a question, which they could tackle by themselves, I would say Prof. Marinoff's workshop has achieved its major goal.
(Report: SHIMIZU Shogo)