[Report] The "UBI SUMUS" Series 2
Last year, Professor Yasunari Takada (UTCP) launched a new lecture series titled "UBI SUMUS" (where are we?). This series aims at identifying where we are, both in a national and global context. On February 20th, 2013, the second of the series was held with Professor Tadashi Uchino (UTCP), Mr. Toshiki Okada, and Professor Cody Poulton (University of Victoria).
Mr. Okada is known as a playwright, who won the 49th Kishida Kunio Drama Award for Five Days in March in 2005, as well as a novelist, who won the 2nd Kenzaburo Oe Award for The End of the Special Time Allowed to Us in 2007. In his latest work, Zero Cost House, Mr. Okada approaches his own life, and proposes an alternative way of life in the post-Fukushima Era.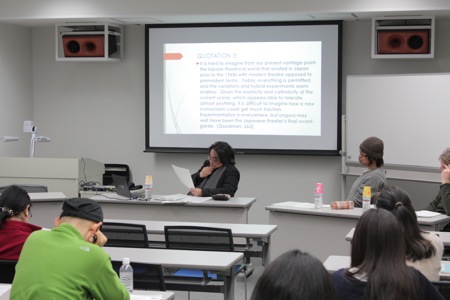 Prof. Uchino's lecture, "'Database Animals' and the Avant-garde: Materializing Transnational, Transient Subjectivities in Posthumanity," considered the new generation of Japanese theatre companies such as Nibroll by Mikuni Yanaihara and Chelfitsch by Toshiki Okada. Beginning with references to Richard Schechner's definition of "avant-garde", Hiroki Azuma's notion of "database animals", and "Japanese snobbery" by Alexandre Kojève, Prof. Uchino developed a productive insight on the physical representation of post-human bodies. As he states in the conclusion, what can be found in recent performance culture is the materialization of transnational and transient subjectivities in the age of post-humanity.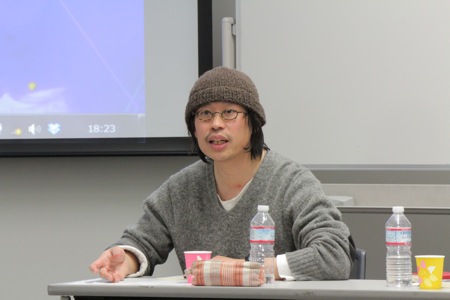 The lecture was followed by Mr. Okada's enthusiastic response, and Professors Takada and Poulton encouraged rich discussion with audience. The symposium led us to reflect on not only the recent movement in performing arts, but also a new vision of physical representation in the age of "database animals," or post-humanity.
Report: Futoshi Hoshino (UTCP)