[Report] Film Screening: "Nuclear Nation"
On November 28th, UTCP hosted a public screening of Funahashi Atsushi's documentary Nuclear Nation. Following the screening, Funahashi-san and Prof. Sato Yoshiaki joined for an in-depth discussion with the audience.

Nuclear Nation tells the story of Futaba, a small town inside the Fukushima no-entry zone. Located just 4 km from the nuclear plant, Futaba was evacuated in 2011 during the early days of the crisis, as TEPCO struggled to bring the triple meltdown under control. Over 1,400 residents were relocated to an unused high school in Saitama. Nuclear Nation explores the refugees' new lives, in their search for both justice and a way forward.
During the post-screening discussion, Funahashi-san described the current situation for the residents of Futaba, issues surrounding the ongoing nuclear crisis, and his reflections on representing this as a documentary filmmaker. He also spoke about one of his current projects: filming a sequel to Nuclear Nation.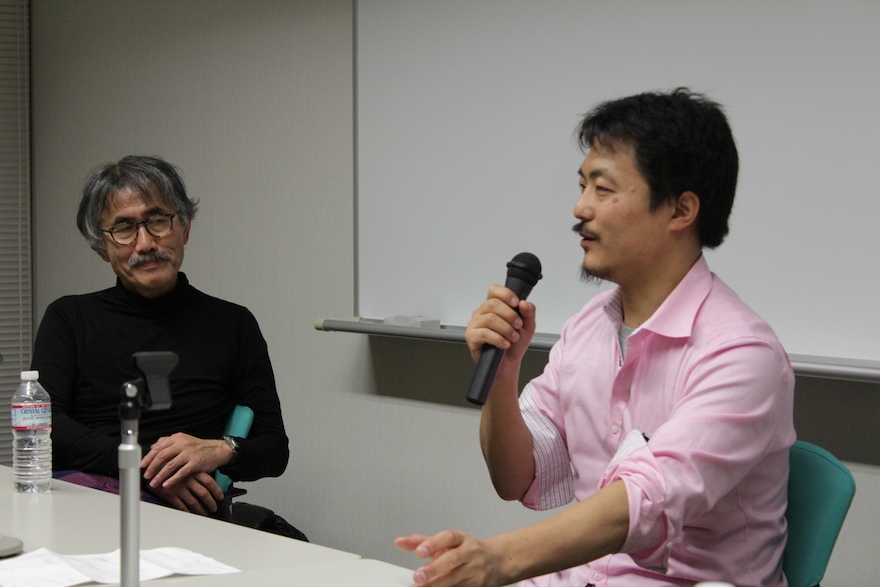 As of late November 2012, about half of the original residents of Futaba have relocated several times, and are now in other parts of Fukushima prefecture. About 1,000 residents remain in Saitama prefecture, with 150 still in the unused High School there. The remaining 2,500 residents have spread out all through Japan.
Over a year after the disaster, the refugees have not received any compensation money and financial support is tenuous.
Today, the residents face a new problem: how to keep their community together, as radiation levels in Futaba do not allow a return for the foreseeable future. Many former residents have been trying to gather in the south-east of Fukushima prefecture, where radiation has not proven to be a problem. Idogawa Katsutaka, the mayor of Futaba, has been working to relocate the town hall to this area as well. The town residents, though, have become divided: half of them wish to be out of Fukushima, while the other half wish to return. Idogawa-san has found himself in the middle. The majority of the town council wishes to return to Fukushima, for they know they will lose their positions if the town seat relocates. Idogawa-san has come under increasing pressure from the various parties.
Technically, the town of Futaba is still in the middle of evacuation, and is subject to the protocol of the government's Basic Act on Disaster Control Measures. As of November, 2012, nobody knows when the current situation will change, or when the evacuation will "end".
Funahashi-san shared a number of insights about the current state of the crisis, the impasse of the government policies, the representation of the crisis in the mass media, and his approach to documentary filmmaking. The members of UTCP wish to express their heartfelt thanks to both Funahashi-san and Sato-sensei for a very enlightening discussion of the nuclear crisis.
— M. Downing Roberts, UTCP