[Report] UTCP Lecture "A Linguistic Study of Motion Events and the Problem of Sharing Meanings"
MORITA Takahiro, a member of the Mid-Term Education Program "Ecriture and Thought in Modern East Asia", made a presentation entitled 'A Linguistic Study of Motion Events and the Problem of Sharing Meanings'. It was the second session of the series of 'Presentation and Discussion by UTCP Researchers'.

The linguistic study of motion events has been very animated since the appearance of Talmy's Typology (1985, 2000). In this presentation, I argued the linguistic criteria for defining the notions of path and manner, supposed to be lexicalized in the motion verbs. I also posed another problem on the interface between extra-linguistic phenomena and their linguistic expressions.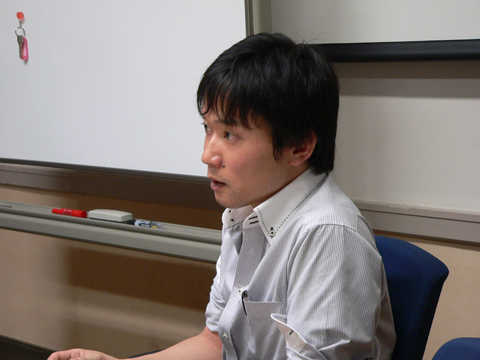 According to previous studies, the motion verbs are to be divided into path verbs and manner verbs. However, the method of categorization is not obvious and the lack of well-defined method sometimes involves ambiguity in the verb classification. Then, I proposed a method of verb categorization based on the telicity and the linearity. This method allows us to classify motion verbs in a verifiable manner and educes 4 categories: verbs representing the result of motion (telic verbs, a part of traditional path verbs), directional verbs (atelic verbs containing linearity), intermediate class of result/direction, and manner of motion verbs (atelic verbs without linearity). This method has another advantage that it is applicable to any languages.
In the actual typology, the motion event is supposed to consist of 5 components, figure, ground, motion, path, and co-event (manner), and the interface between these conceptual components and the linguistic realization of these conceptual components constitutes the subject to be analyzed. This method presupposes that these conceptual components exist 'in' the extra-linguistic phenomena independently of language use. Per contra, I proposed another view according to which these conceptual components are 'made' by language use.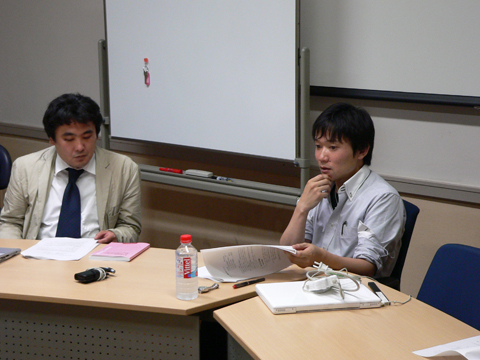 (Morita Takahiro)