[Report] Workshop on Public Engagement in Science and Technology
On January 21st, we held the workshop about public engagement in science and technology. Maika Nakao talked about the UTCP approach to the Komaba Brain Café, and Sho Sekiya talked about a theoretical approach to public engagement.

I talked about our activities in the Komaba Brain Café as someone who started it. The title of my presentation is "Philosophy Meets Neuroscience: An Introduction to an Approach to the 'Komaba Brain Café.'"
At first, I talked about the backgrounds of the Komaba Brain Café. There is a "science communication boom" in Japan. Particularly, science cafés are now popular among scientists as well as those who are interested in science communication. I mentioned that many of these activities have a tone of "promotion of science." So, the styles of many Japanese science cafés are similar to those of university professors' public lectures. There is also a neuroscience boom in Japan. In relation to these social situations, the communication of neuroscience research is now improving around the world.
In these surroundings, we started the Komaba Brain Café. In this regard, we follow the trend. But the Komaba Brain Café is a unique approach on several points. The Komaba Brain Café is organized by UTCP and the Department of History and Philosophy of Science. Sometimes, it is co-organized by Neuroethics Research Unit at the University of Tokyo. The Komaba Brain Café was began as part of the education program "Brain sciences and ethics" at UTCP. Almost all members of the organizing committee of the Komaba Brain Café are young scholars in the program. In the "Brain sciences and ethics" program we examined philosophical and ethical problems posed by brain sciences to society from three perspectives. The Komaba Brain Café aims at providing venues for a free and active dialogue between those who are interested in brain science and neuroethics. Our aim is not to promote science, but to make a place for open discussion among people who are interested in the brain beyond areas of specialization.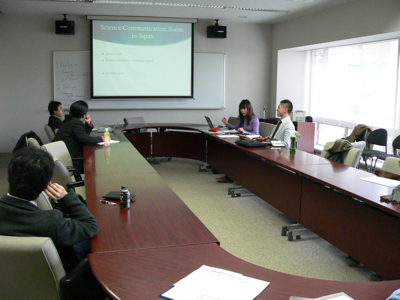 We held the Komaba Brain Café about once in a month. The average number of participants is around 30. There is a variety of participants, including graduate students of philosophy, neuroscience, and STS, publishers, university academic staff, and middle-aged and senior adults. Audience is changed each time, depending on the topic. But several people regularly participate in the Komaba Brain Café.
Generally, the guest speaker is a graduate student or a young scholar. We would like to share his/her research interest: How is he/she investigating the brain, what do neuroscientists think about the situation surrounding neuroscience? When participants hear the process of an experiment, they pointed out an ethical problem on it. We would like to know what scientists think about during their everyday lives. Guest speakers said the café was beneficial to them. They had unexpected comments and discussions in the café and tried to think about, and answer to, them as much as possible.
The Komaba Brain Café is a good place for connecting people. I believe that the Komaba Brain Café has also a good effect on philosophers who are studying neuroethics. Most facilitators are young scholars at UTCP, and they are studying neuroethics as their area of competence. In Japan, scientists' activities on science popularization are disregarded. Scientists who are actively popularizing their research are tend to be despised. In spite of this tendency, many young scholars actively go out of their laboratories and talk about their research to the public.
(Written by Maika Nakao)

Following Ms. Nakao's presentation, I delivered a presentation under the title of "Why Public Engagement? Toward Theoretical Underpinnings of Public Participation."
Recently, various methods of public participation in the field of science and technology have developed, and they are widely practiced all over the world. In Japan, after entering the 2000s, several programs were initiated to train science communicators by universities and museums, and Food Safety Commission started a similar program to train risk communicators last year. Science communication is becoming popular and more and more people recognize its importance. Now, however, it is time to consider why public engagement is needed or on what grounds public participation is justified.
Why is public engagement needed? On what grounds is public participation justified? The existence of trans-scientific situation and the importance of departure from the deficit model are too fragile to fully answer the questions here. True, these are the reasons why problems facing scientific and technological society cannot be solved either by science or by communicating in manner of the deficit model, but they do not entail the necessity of public engagement. We have to seek other reasons why public participation is necessary in modern society.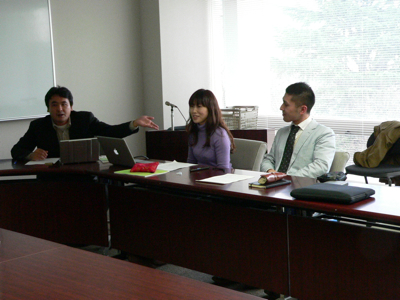 There may be three possible answers from different perspectives. First, from a practical perspective: We can no longer solve problems concerning science and technology by the traditional way, but by public engagement. Therefore, public engagement is necessary. Second, from a social perspective: Technologies are social structures, and we must have control over them. Therefore, public engagement is required. Third, from a democratic perspective: We should pursue deliberative democracy, because it is superior to other kinds of democracy. Public participation is required in a society in which deliberative democracy is realized. Therefore, public engagement is required. For now, the reasoning from a democratic perspective seems the most plausible of the three.
The reasoning from a practical perspective remains unproved whether public engagement is an effective and efficient method to solve such problems. In fact, there is evidence that the conventional way is used in the field of risk communication. Gurabardhi and others analyzed 349 peer-reviewed articles concerning risk communication published between 1988 and 2000 and listed in the ISI Web of Science databases. The results indicate that over the whole period there is a gradual decrease in the articles referring to a one-way flow of risk communication and increase of those concerned with two-way communication. True, a gradual increase was also observed in the articles referring to stakeholder participation in risk decisions in the last period, but the ratio of participatory to non-participatory is roughly 1 to 1. This science-metric study suggests that not a few people were involved in non-participatory risk communication as of 2000.
In the next place, the reasoning from a social perspective needs further explanations to underpin the claim and to convince its opponents. For example, why do we have to gain control over technologies if they are social structures? There also seems to be another response: not we but some group of people must have control over them. Here, I have in mind a strong form of public engagement, which means that engagement of not only those who want to but also potentially all the people. Of course, some limitations are necessary to work public engagement properly.
Last, the reasoning from a democratic perspective seems to be the most plausible of the three. Apparently, the same criticisms against the reasoning from a social perspective hold true for the reasoning from a democratic perspective as well. However, it can answer the criticisms as follows: Why public engagement? Because we should pursue deliberative democracy and that is superior. Why we? Because you are members of democratic society. I must admit that this argument is very naive, but at least it can be said that the reasoning from a democratic perspective is the most plausible one.
Deliberation facilitates people's forming their deliberative opinions out of raw opinions. It encourages the forums to be open to all people unless otherwise agreed. Through the process, people will be encouraged to be tolerant to other opinions, and to justify their own opinions. Whether deliberative opinions are better than raw opinions or not, the deliberative process promotes the legitimacy of collective decisions although there lies a problem of quality control of collective decisions.
Of course, there are other challenges. I will note four points. First, in the modern communication environment, science cannot claim any privileged status. Besides science and technology, there are a multitude of problems to be deliberated in our society such as tax system, healthcare system, national defense, international relations and so on. Science is just one of them. Second, in the realm of psychology, a phenomenon called group polarization is well known. When people discuss their beliefs and preferences in groups, they tend to end up in a more extreme position in line with their pre-deliberation tendencies. Thus it is important to avoid adverse effect from group polarization. Third, there is a problem of consensus. Is it aimed to reach a consensus? In order to answer the question, Noboru Yanase distinguishes two kinds of deliberation. One is for forming people's opinions, and the other is for making decisions. The latter is aimed at reaching a consensus, while the former is not. More generally, however, we have to consider the way to combine deliberative democracy with other kinds of democracy, for example, deliberation with voting. One example in US is deliberation day. Bruce Deliberation day is a new national holiday proposed by Ackerman and Fishkin for each presidential election year. On this day people throughout the country will meet in public spaces and engage in structured debates about issues that divide the candidates in the upcoming presidential election. Fourth and the last, we have to consider the relationship between experts (or scientists) and ordinary people. I am skeptical about the democratization of scientists. In this regard, it would be helpful to learn from citizen judge system (or Saiban-in Seido in Japanese). In the system, judges are never democratized; lawyers neither. I suppose that the relationship between scientists and lay people in deliberative democracy will look like the one between judges and citizen judges. This point, however, is yet to be investigated.
(Written by Sho Sekiya)