[Report] A Dialogue between Dr. Benvenisti and Prof. Uemura, Palestine and Ainu: A Comparative History of Settlement and Conquest
We had a dialogue with Dr. Meron Benvenisti on March 16, 2010. He published a book, Sacred Landscape: Buried History of the Holy Land Since 1948, in which he argued that there were Jewish settlement activities and then the establishment of a Jewish State, Israel. Thus, the land of Palestine had been "Judaized".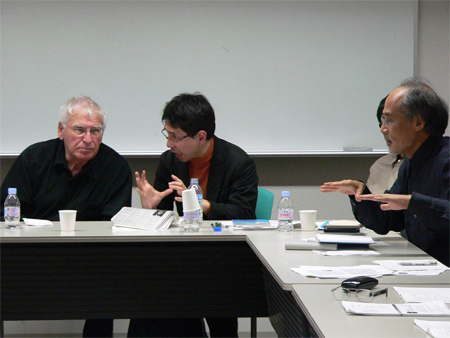 The landscape was renovated, the map rewritten, then, the Jewish nationalism was justified by the invented tradition and history. That is, the lives, names and histories of Arabs having lived there were eliminated. Instead, an ideology and its basis, that is, only Jewish people have long kept the legitimacy of the Holy Land directly since the age of Bible, were created.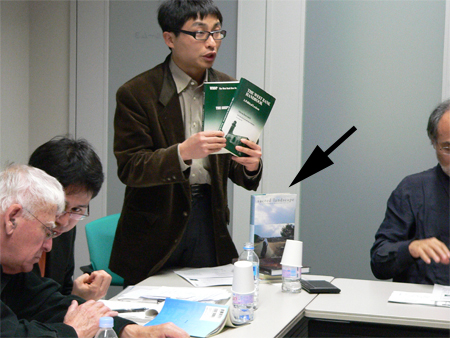 Thea book Sacred Landscape had a lot of public responses, not only because Dr. Benvenisti is an eminent critic in Israel, but also his father played a very important role as a mapmaker around the foundation of Israel in 1948.
After he delivered one lecture on this topic, he proceeded to this dialogue with the specialist on Ainu issues in Japan in order to compare and weigh the two cases of settlement and oppression against native indigenous people in the process of formation and development of modern states. I would like to emphasize that it was Dr. Benvenisti who offered such a dialogue on the chance of visiting Japan. Before coming to Japan, he had already read English books on Ainu and had some knowledge about the general history of the conquest of Ainu by Japanese and the foundation of the settlement community. Then Dr. Benvenisti hoped to discuss it with the Ainu specialist, Prof. Hideaki Uemura.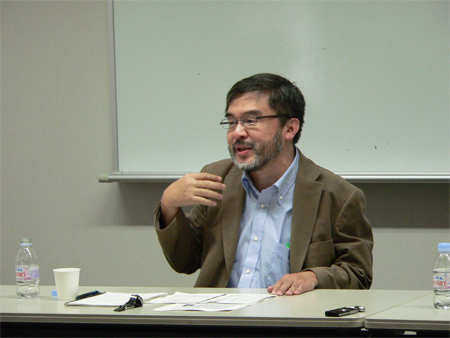 At first, Dr. Benvenisti introduced his father's job as a mapmaker particularly around the foundation of Israel, and then stated that the act of naming places has effects of generating an affinity for the land and of claiming the dominion over the land. Prof. Uemura replied that in the history of Hokkaido there were countless cases of similar acts of naming and mapmaking by changing the original Ainu names of place into Japanese ones, which made people cherish the illusion that the land had belonged to Japanese and strengthen their nationalism.
Next, Dr. Benvenisti told there are several functions of a map such as military use, tax gathering, land relocation, limitation of land application, and ultimately dispossession of land. Then Prof. Uemura explained that in Hokkaido the first mapmaking included ownership investigation and censuses, which were started to claim the dominion of the land of Ainu against Russia. He added that the first settlers were farmer-soldiers, ex-legionary, and they totalyy changed the land application, which blocked Ainu's regular vocation.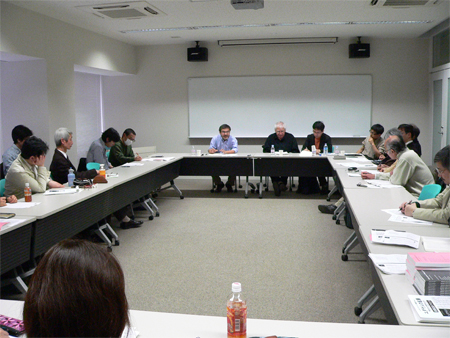 After that moving to the topic of "violence", Dr. Benvenisti noted that the Palestinian resistance called "Intifada" was originally the consequence of military occupation, but it slid into "reprisals on both sides" or "tit-for-tat". Then finally contra, it is said "that's why Palestinians are violent and barbarian". In response, Prof. Uemura there were few armed resistant struggles in Ainu's history, but the Ainu people who were deprived of their vocations got sick or alcoholic. Accordingly, they were often said to be lazy and uncivilized in their nature. In this point, we can find a subtle difference between the two cases.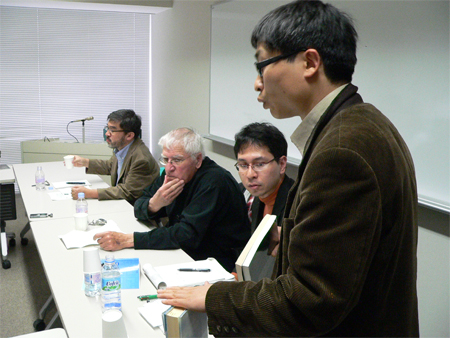 In connection with it, Dr. Benvenisti pointed out that while the case of Ainu happened mainly up to the last century, the case of Palestine is still now proceeding, and that the question is how to connect them, that is, the discussion on an historical dynamism. Prof. Uemura answered that it's true that the conquest of Ainu is a thing of the past, but the struggle has been continuing to make the Japanese government recognize Ainu people as indigenous one and constituent members of Japanese, and that "sharing history" is a necessary requirement to put justice into practice to Ainu people.
In the latter half of the dialogue, they mentioned the topics such as "ideology of civilization and homeland", "invisibility of native people and the conquest of nature", "psychology and education of the second generation of settlers", and "making settlement into national territory", and continued a deep and condensed discussion.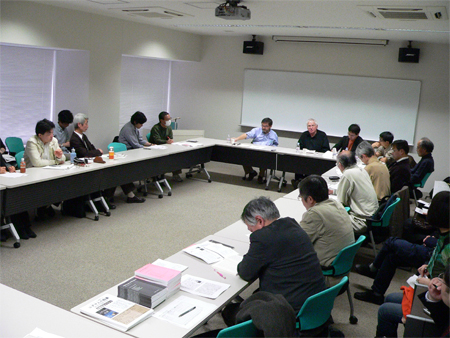 It was a really great opportunity to reconsider the process of modernization of nation states and its violence, and also the importance and difficulty of coexistence. We express our gratitude to Dr. Benvenisti and Prof. Uemura.
Takanori HAYAO (UTCP)