[Report] Komaba Brain Café "Plastic Brain, Flexible Society"
On April 21, the first Komaba Brain Café, titled "Plastic Brain, Flexible Society," was held at the First-year Activity Center. "Komaba Brain Café" aims at providing venues for a free and active dialogue with those who are interested in brain science, neuroscience, and neuroethics.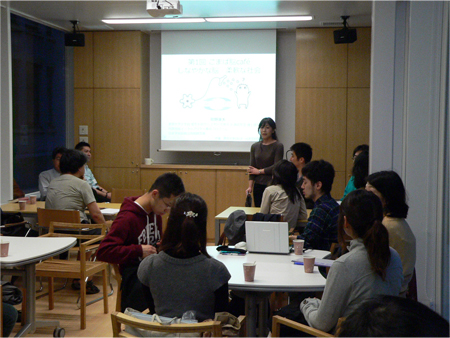 Mr. Kouta Kanno, who is a doctoral student at the University of Tokyo and specializes in bioscience, was invited as a guest speaker. Sho Sekiya, who is also a doctoral student at the University of Tokyo and specializes in science and technology studies, played a role as a facilitator. Although it was unfortunately raining, the site was filled to capacity with as many as 40 people.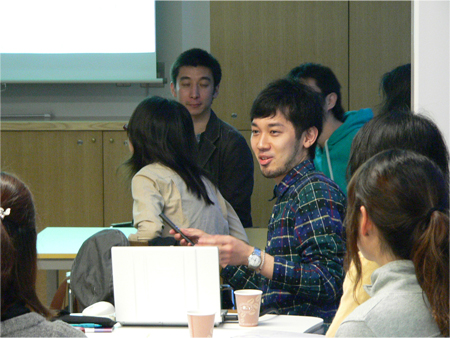 In the first 30 minutes of the science café, Mr. Kanno introduced his research and several topics related to it, such as the satori gene (or fruitless gene) and the change in sexual activities induced by destroying specific brain areas. Now he is doing research on the relationship between the vulnerability to disease and the DAT1 gene polymorphism. Certain data suggest that the diversity of the vulnerability to some mental diseases can be explained by the gene polymorphism. If this is the case, we can identify the vulnerable by genetic testing. Mr. Kanno highlighted how useful genetic testing is in caring for those who are suffered with mental disorders or drug dependence.
He also mentioned the relationship between brain science and society. As brain science and neuroscience make progress, we respond to it, and can build a society in which people can support and help the mentally fragile. The societal change, in turn, will result in emerging favorable circumstances in which people are less likely to fall mentally ill.
After the guest speaker's talk, we rearranged the place so as to facilitate dialogues between participants, and moved on to open-ended discussions. In discussions, several interesting questions were raised. First, there was a question about what boosts the number of patients with autism which is generally thought to be caused by genetic factors. Second, the necessity of conducting mental examination on pupils was debated. While such testing is useful to detect their mental disorders at an early stage, it also raises privacy concerns and ethical issues. In reality, many companies have adopted vocational aptitude tests in selecting excellent human resources to hire. This was the third topic of the discussion. About an hour and a half, we engaged in a truly active dialogue, over a cup of coffee in a relaxed atmosphere.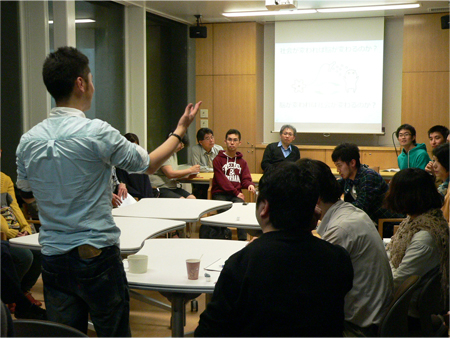 Reported by Sho Sekiya