[Report@Paris] International Symposium: "The Figure of the Outside: Jean-Luc Nancy"
On January 22-24, 2009, the Collège international de Philosophie (CIPh) and University Paris 4 (Sorbonne) organized the international symposium "The Figure of the Outside: Jean-Luc Nancy" in Paris, under the heading of Danielle Cohen-Levinas and Gisèle Berkman. The symposium was very animated, with an audience of over one hundred throughout the three days.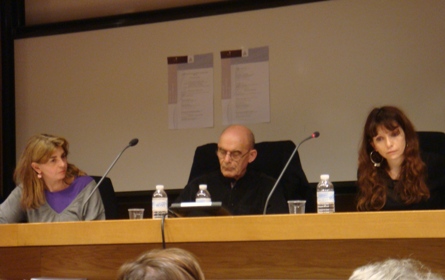 (Danielle Cohen-Levinas Jean-Luc Nancy and Gisèle Berkman)
The program titles for the three days were "Politics and the Others", "The Sense of the World and its Creation", "Deconstructions". Of the around forty participants the majority were young doctors who came from France, England, Italy, Germeny, Canada, Bulgaria, Finland, India and Japan. The most surprising thing was that Jean-Luc Nancy gave a faithful commentary after each presentation. Sometimes he gave an extraordinary and passionate response that was as long as the presentation.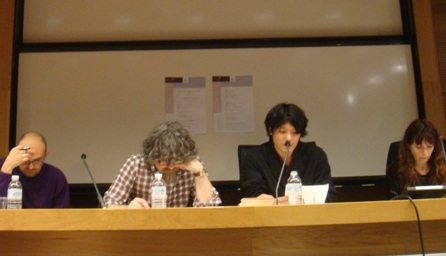 On the third day, I gave a presentation titles "The Christology of Jean-Luc Nancy". It examined the difference between Nancy's work "The Deconstruction of Christianity" and Hegel's dialectical thought, through an interpretation of about the Christian ideas of incarnation, passion and resurrection.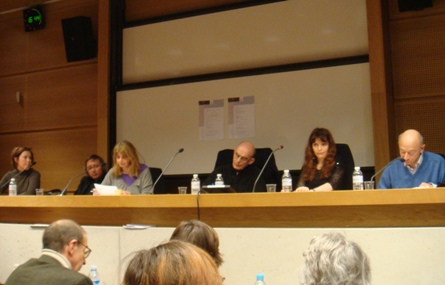 Indeed, Nancy gave his comment after each presentation. In fact, sometimes, the presenters pointed out Nancy's mistakes. Nancy admitted that he no longer remembers the passage cited in their presentation. Throughout the entire three days of the symposium, Nancy gave precise responses to questions.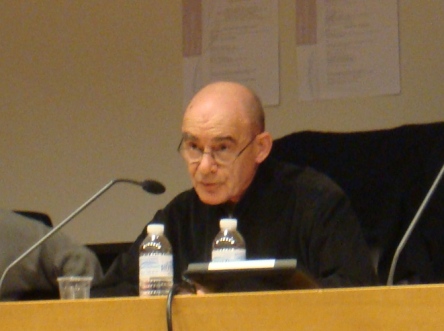 Finally, let us quote the last words of Nancy's closing remarks.
"Now, after having attended all of the symposium, I feel a lot of happiness and pleasure. Because this academic event was not held around my proper name, but, on the contrary, you all offered me new thoughts. The important thing is to produce the place for questioning our epoque. To touch (toucher) this place together, to open the closure of the proper name, to show the movement that exceeds the proper name, this is exactly our task (tâche), workers (tâcheron) of thought. Thank you, let us grope (Merci, tâtonnons)."
(Yuji Nishiyama)