[Report] Neuroethics Society First Annual Meeting
The first annual meeting of the Neuroethics Society was held in Washington DC on November 13 and 14 in 2008. Four UTCP researchers paticipated in the conference.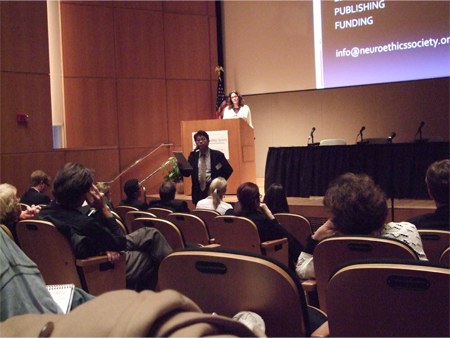 Yukihiro Nobuhara (The University of Tokyo, UTCP) "Autonomy of Action"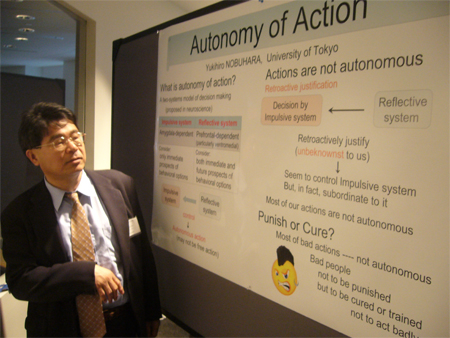 The first annual meeting of the Neuroethics Society was held in Washington DC on November 13 and 14 in 2008. I made a poster presentation in the meeting. So far I have made many oral presentations, but this was the first time to make a poster presentation. I was a little bit nervous before the beginning of the poster session. 27 posters were presented in all. When the poster session started, many participants looked around the posters one by one. About 10 people came to my corner and looked at my poster. I discussed with three of them. The conclusion in my poster was that we had to build the social system of not punishing but curing bad people because most of our actions were not autonomous. All the persons I discussed agreed on it. I was somewhat deflated by their responses because I thought my conclusion was rather challenging.
  There was no oral presentation session. The main programs other than the poster session were six symposiums. I found all the themes of the six symposiums were very intriguing. They included freedom of the will, lie detection, cognitive enhancement, and so on. The symposium on the neurobusiness (the commercial application of neuroscience) was particularly stimulating. I was surprised that there were already many kinds of neurobusiness, for example, neuropharcology, BMI, and neuromarketing. I was also surprised to learn that the global neurotechnology revenue in 2007 was $130 billion and 8.3% growth. It is all right that they have a great power to make everything business, but I felt keenly that we must not be overwhelmed by it. We have to do our best to cope with it ethically.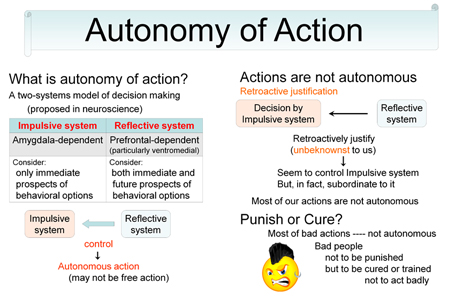 Download the poster (PDF, 711KB)
Eisuke Nakazawa (The University of Tokyo, UTCP) "Memory Manipulation and Personal Identity"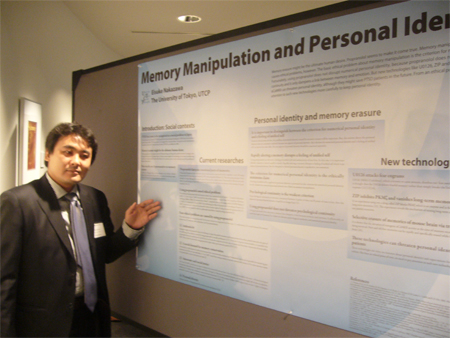 I examined "Memory Manipulation and Personal Identity" in my poster presentation.
  
  At present, many researchers pay attention to technical possibilities of memory manipulation and its ethical implications. From the viewpoint of personal identity I focus on memory erasure techniques by using drugs. It must be questioned that "Does using drug actually cause memory erasure?" and "What kinds of memory manipulation techniques threaten our personal identities?"
  Using propranolol which is prescribed to PTSD patients is problematic from the ethical viewpoint. Dr. Éric Racine (Institut de recherches cliniqures de Montréal), who had given the lecture at the University of Tokyo on November 5th, 2008, also mentioned using propranolol, and a workshop "Debate on Cognitive Enhancement" in the Neuroethics Society Annual Meeting focused on the effects of using propranolol and its ethical implications.
  Fortunately, many researchers paid attention to my poster presentation and asked me to provide more explanations for medicinal effects of using propranolol and for new technologies which I had introduced as successors to propranolol. It is a good experience for me to have discussed with them closely.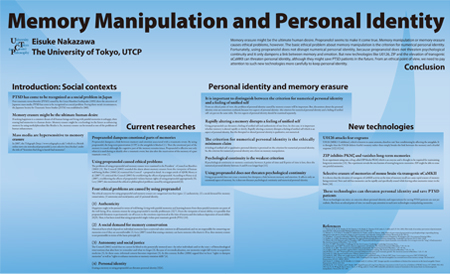 Download the poster (PDF, 419KB)
Ryo Uehara (The University of Tokyo) "Transhumanism and the Theory of Value"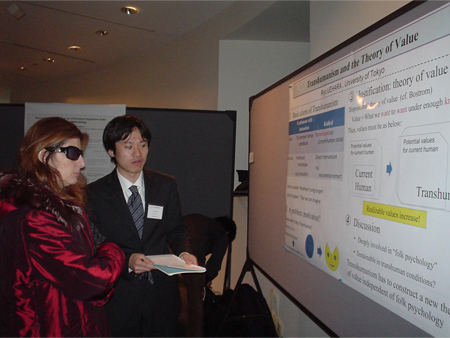 I participated in the first annual meeting of Neuroethics Society held in Washington D. C. Many researchers from various fields, such as applied ethics, medicine, law, journalism, delivered lectures on many topics, including cognitive enhancement, decision-making, and neuroscience of business. It is not only Japanese trends but also international trends that neuroethics draws attentions from many fields.
  Among many important lectures, the lecture delivered by Steven Hyman strongly impressed me. His topic is the neuroethics of pediatric bipolar disorder. According to him, whether the bipolar disorder is natural-kind or not is important to draw an ethical conclusion. My main philosophical concern lies in epistemology and ontology of natural kinds. So it is in this problem that both of my main philosophical concern and neuroethics are closely connected with each other. I got very excited because I found that the philosophical concepts or tools familiar with me would worked constructively in neuroethics.
  I myself presented a poster on Transhumanism. I argue that Transhumanists fail to justify their claims. When Transuhumanists tries to justify their claims, they resort conceptual tools deeply involved in folk psychology. I think, however, the basic features of Transhumans, especially their intellectual capacities, cannot be consistent with this kind of justification.
  Since Transhumanism is now prominent as a radical position in the argument over enhancement, my presentation could make impacts on some listeners. One said that it was important and interesting. One suggested that the forms of Transhumans would depend on cultural contexts. One said "It's too idealistic!", getting slightly upset about my presentation. This means that philosophical arguments would not always be accepted here, and I thought that it also reflected the diversity of participants.
  I was so lucky to meet and speak with Martha Farah. Knowing I was a philosopher, she said "We need more philosophers". That was very impressive.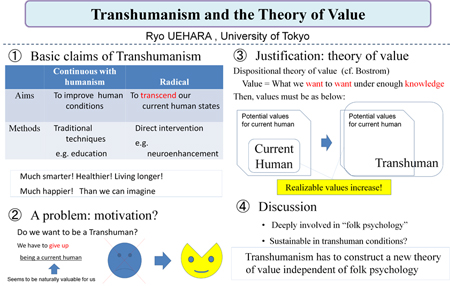 Download the poster (PDF, 761KB)
Yu Nishitsutsumi (The University of Tokyo) "An Extension of the Somatic Maker Hypothesis to Moral Decision-Making"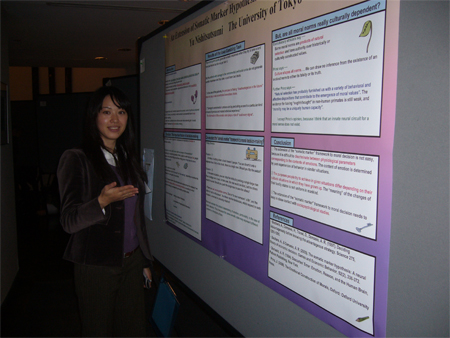 In the first annual meeting of the Neuroethics Society held on November 13-14 at Washington D.C., I made a poster presentation. Here is a brief report about the idea and impression which I had when I did my presentation and attended various symposiums.
  In my poster presentation, I pointed out the problem which we will encounter in extending the "somatic marker" framework to moral decision-making. I suggest that it is necessary for the extension to be effective that we take considerations not only a physiological but also a behavioral level. From my point of view, the content of emotion involved in moral decision-making is determined by cultural circumstances, and to justify this point, I referred to J. Prinz's criticism of evolutional ethicists. In response to my presentation, some people appreciated my view as being unique in terms of that emotion is determined by cultural circumstances, and also pointed out some ambiguities in my argument. The discussion with them was exciting and positive experience for me.
  Finally, I would like to mention something about the meeting. I was impressed by the effects of "laughing" introduced in this meeting. Although almost all of the participants are generally friendly, they tried to make participants laugh with some jokes in the discussion. I think they enjoyed the meeting in a friendly atmosphere which encouraged them to concentrate in much more active debates. We, therefore, should keep up smile and laugh as much as possible even though we know seriousness is sometimes important as well. There should be the "smile" in the beginning. I recognize the importance of peace of mind that we can get after radical examinations of our own arguments.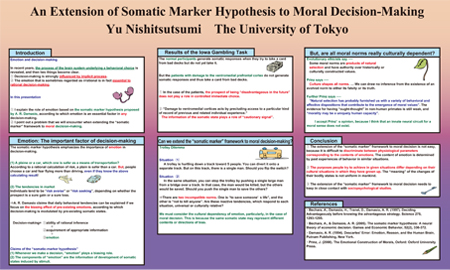 Download the poster (PDF, 13.9MB)