Report@Seoul: The XXII World Congress of Philosophy: Rethinking Philosophy Today
From July 30th to August 5th, the XXII World Congress of Philosophy: Rethinking Philosophy Today is held at Seoul National University. This is my report on the first two days of this philosophical festival (July 30th-31st).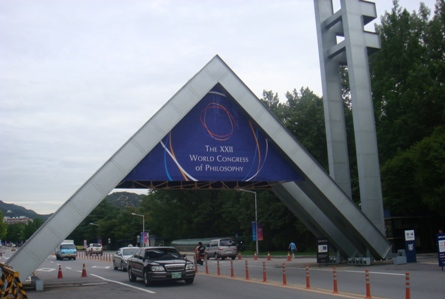 Outline of the World Congress of Philosophy

The first World Congress of Philosophy (WCP) took place in Paris in 1900, and it has been held every five years just like the Olympic Games. The XXII Congress is held for the first time in Asia since its inception. About 2,600 speakers from 102 countries participate in the Congress, and the largest numbers of participants are from Korea (about 600 speakers), China, Russia and the United States. 50 staffs and 250 student volunteers work for this big festival with the monetary support of Korean enterprises such as Samsung, Hyundai, Asiana Airlines, LG, etc.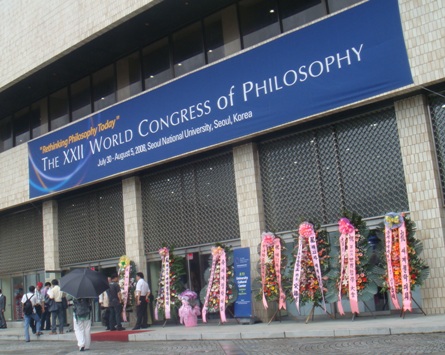 The WCP consists of different sessions at all levels. In "Planetary Sessions" and "Symposium", philosophers from different areas (including "big names" such as Judith Butler, Jean-Luc Marion, et al.) have serious discussions on problems on the global scale. "Special Sessions" (for instance, the one about Philosophy in Korea, the host country) and "Invited Sessions" are also organized. Specific topics are discussed in "Contributed Papers (54 Sections)" and "Round Tables". Also having "Society Meetings" and "Student Sessions", the Congress as a whole is composed of presentations at very different levels.

On the first day, the Opening Ceremony was started with Korean traditional music. The Prime Minister of Korea, Seung-soo Han, gave a congratulatory address, emphasizing that the importance of philosophy is now increasing in our difficult age and world.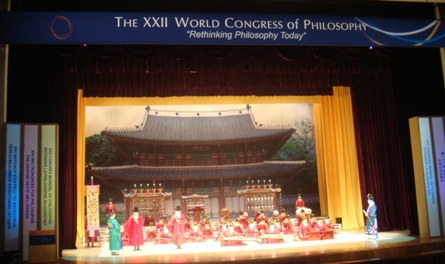 Attempt at "Philosophical Camp"

During the period of the Congress, "Philosophical Camp" will also be held for the first time for four days in the suburb of Seoul. The Camp gives an introduction to philosophy to young students (about 90 elementary school students, 50 junior high school students, and 40 high school students), with the participation of about 20 Korean and foreign professors of philosophy. In this philosophical camp, all participants will engage in the practical question "how can young people learn philosophy?"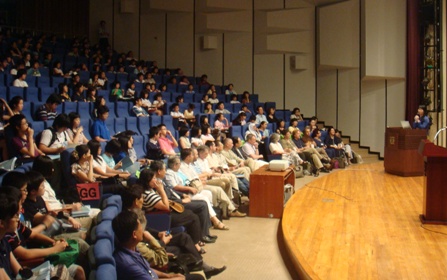 Contributed Papers Section: Teaching Philosophy

In the Contributed Papers Section: Teaching Philosophy, I gave a presentation on Jacques Derrida's pedagogy based on deconstruction. The audience asked me several questions: "What does 'the arrival of the other' means in Derrida's pedagogy?" "By deconstructive pedagogy, is it possible to teach the history of philosophy in a faithful manner?" "How did Derrida think about philosophical education for children?" etc. In this session, we had a very good discussion about the directions and methods of teaching philosophy from different perspectives.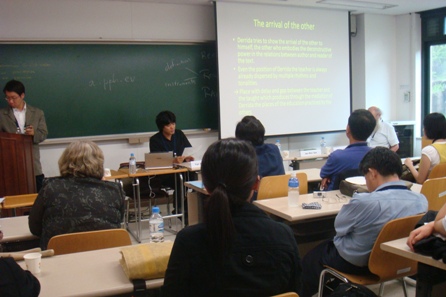 Pleasurable meetings through philosophy

Since this is the International Congress organized on such a large scale, we have many opportunities of encountering philosophers from all over the world. Although a free shuttle bus runs from a subway station to Seoul National University, the bus doesn't often come. It might be a tactic for the encounter, everyone gives up waiting for the shuttle bus, and rides on a cab, philosophers from different countries start to talk to each other in the cab.

On my way home, I had a very fortunate opportunity to meet volunteer students and staffs at the entrance of subway. We became friends soon, and UTCP members entered a Korean restaurant with them. Eating Korean-style grilled meat and drinking Korean-style Shochu, we have a very happy time to talk with each other in English, French, Korean or Japanese. Such a encounter provoked by philosophical activity flourishes in various times and spaces and between generations, and its joy is precisely infinite beyond nationalities.
(Yuji Nishiyama)