Report of a conference in India
A Conference "Asia without borders: Rethinking History, Anthropology and Politics" was held on 18th and 19th January, 2008 in Jamia Millia Islamia University, New Delhi.
This is organized by Centre for Culture, Media and Governance at JMI and Zakir Hussain Studies Centre at JMI in collaboration with Harvard Yenching Institute. Thanks to Professor Seema Alavi, historian and chief manager of the conference, it became a fruitful conference.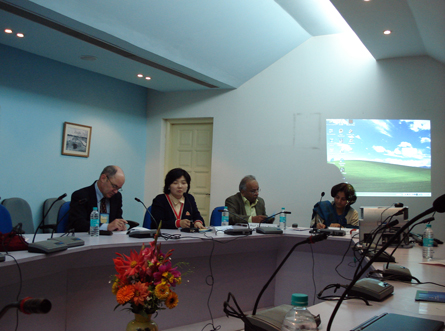 Professor Tadashi Uchino and Takahiro Nakajima who are members of UTCP took part in it. I, Nakajima, am also an alumnus of HYI and a member of the project of "Asia without borders".
On 18th, we had four panels. The first one was "Words over borders". Professor Muhammad Salleh from Malaysia, literary man and poet, presented a hybrid and repetitive situation of literature in South East Asia. He is a character who read his poems in the evening. Professor Mushirul Hassan, historian and Vice Chancellor of JMI, presented a Turkish novelist and a problem of future blend of East and West. As a historian, he wrote a book on secularization, which should be read in UTCP.
The second panel was "Borders and the politics of language, reforms and protest". Professor Michael Hertzfeld from Harvard, anthropologist, gave a talk about word usage in Thailand, particularly of "Thainess". He participated in 18th panels actively with taking a charge of discussant for two panels. Professor Salil Misra from India, historian, showed us a history of transformation from local communities to pan-Indian Communities. This is really interesting for me, because it contains a transformation of the concept of "religion".
The third panel was "Imagined borders: Travel, migration and diasporas". Professor Seem Alavi presented a case of a traveler in 19th century who travelled from Punjab to Andaman Islands. Through his travel, we can find a birth of "colonial subject" and an image of "proto-nation". Professor Seung-Mi Han from Yonsei University, Korea showed us a current situation of Korean Chinese. Through their borderless activities, we can reach an idea that citizenship is becoming a matter of choice in this age of globalization.
The fourth panel was "the classical in the Modern: Transgressing borders?" In this part, I gave a talk about a phenomenon of Confucian restoration seen in current China as well as prewar Japan. Professor Hertfeld as a discussant gave a hint to pay much more attention to politics of translation. Professor Michael Kim from Yonsei University presentede "the Lost Memories of Empire: Cross-border Displacement and the Korean Escape from Manchuria". He pointed out the story of escape from Manchuria among Japanese and Korean in order to rethink "collective memory". His eye focuses on the cross over experience in East Asian modern history.
On 19th, there were two panels focusing on Media Studies.
The fifth panel was "Cinema in Asia: Forging the territorial nation with extraterritorial contours". The title of professor Shohini Ghosh' s talk was "Incredible lives and impossible stories: the speculative biopic and the cinematic imagination". She touched the theme of biographical film in connection of historical film. Professor Hideaki Fujiki from Nagoya University presented a problem of "minshu" and their change into objects of education and subjects of Empire through cinematic discourses.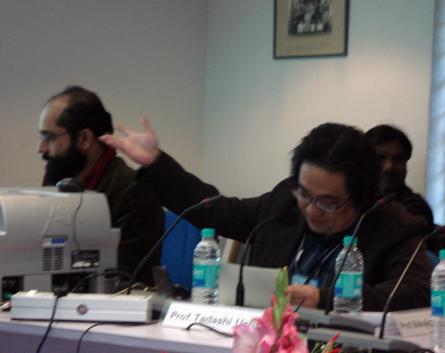 The last panel was "Transnational Flows: Forms, Structures, Discursivities". Professor Tadashi Uchino introduced a challenging experiment of trans-national performance "Memories of Legend". He used a notion of "Con-Fusion" to explain this new phenomenon. Professor Vibodh Parthasarathi from JMI presented us footprints of Global Channels which are growing in recent time. He gave us a new notion of "Asian Electric Public Sphere". The last speaker was Professor Biswajit Das from JMI. With touching Community Radio movement, he recalled us a difficulty of notion of "public sphere" in the age of globalization.

This successful conference was strongly supported by JMI stuffs, particularly the highly motivated students. I would like to sincerely say my gratitude to them.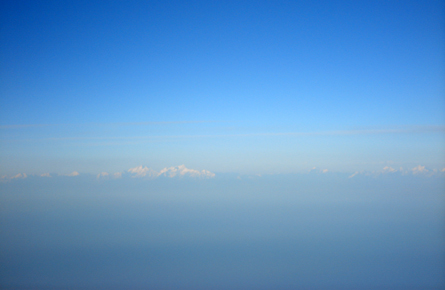 Takahiro Nakajima at New Delhi