Edges / Bridges of Coexistence 01: The Ego-tree
The bridge has always been considered as a metaphor of linking, but the bridge is also a metaphor for the very workings of metaphor, in the way that the edge can be associated with metonymical proximity.
In this column short essays will follow one another, while the edges of their distinctness will be the very bridges, connecting them in a common attempt of imagining coexistence. The first essay (which is already not first, being deeply inspired by the tree at the corner of the Japanese homepage) will introduce another tree, a private and poetic variety of the philosophical tree.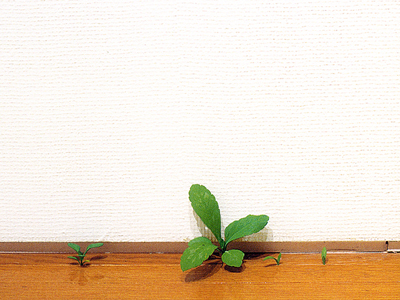 Yoshihiro Suda, Weeds (detail), 2006
© Marugame Genichiro-Inokuma Museum of Contemporary Art
Yoshihiro Suda's unique rendering of the motif of "weeds" may be interpreted not only as an artistic experimentation in exhibiting the liminality between nature and artifice, but also as experimentation with space as a whole. The "weeds" offer us one possible spatial model of the idea of fragmentation/connectedness.
* * * * * * * * * * * * * * * * * * * * * * * *
The Ego-tree
On New Year's Day of 2000 the writer Hino Keizo (1929-2002) collapsed due to a subarachnoid hemorrhage, in his own words, he "fell into the chasm dividing the two millennia". When, saved by the progress in medicine, he crept out of the crevice, a thin tree in front of his living room window became the focus of his poetico-philosophical reflections on life and death. The tree growing in the tiny strip of vacant land, squeezed between his house and the railroad track, became the living correlative of his private philosophy of survival or philosophy or rebirth. "When I first heard from the florist the name of this tree "ego-no ki", I had no idea how to write it with Chinese characters, and vaguely imagined it as "ego-tree", but I also acutely felt that an "ego" cannot possibly blossom with such beautiful mysterious flowers. This tree was belonging to the land of those who thought that the root of existence is the "ego"'s opposite, the "self-becoming nature=physis"".
Discovering the distant botanical affinity with the olive tree, Hino projects onto this tree the beginnings of the love of wisdom for the mysteries of being. "While sadly gazing at the falling yellow leaves of the ego-tree, brought to the narrow land of my home by an unknown destiny and exposed to the far-eastern autumn wind, I vividly recall the "physis" as a fundamental law of existence, claimed by the Ancient Greek lovers of wisdom, who inaugurated the first philosophy in the history of humanity under the shadow of the olive trees". The way the small tree in a residential area in present-day Tokyo and the olives of the distant Aegean coast of more than two thousand years ago overlap, reveals the groping of the mind for a poetic rendering of the "morphogenetic field" (Hino quotes Rupert Sheldrake), the quest for metaphors reconnecting to life. (The quotations are from Hino's essay collection Fallen Leaves: The Little Garden of God, Shueisha, 2002)