"Sea and Travel – Encounters and Coexistence of Civilizations
Report from Mariko Muramatsu on the symposium "Sea and Travel – Encounters and Coexistence of Civilizations" (Nov. 1st , University of Tokyo, Komaba Campus) with the participation of Adele Dei , Rita Guerricchio (University of Florence), Shiro Myashita (University of Tokyo).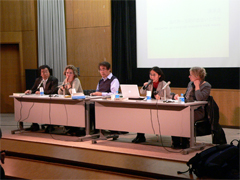 The remarks of the moderator Yasunari Takada and Yasuo Kobayashi's questions brought to light how "travel" records related to space and history and "literature" reflect the place we occupy from Antiquity, through the Middle Ages up to the 21st century and relativize the very act of "writing". Thus the traveler=writer, as in the prototype of Ulysses, faces the "other" and the "abyss" and the spatial and temporal movement as well as his gaze are mediated by the "text". The possibility for "coexistence" of the 21st century may be within this "abyss". The Italian writer Primo Levi, who witnessed the abyss of human history in Auschwitz and recalled in the words of "poetry" the self-destructing itinerary of Dante's Ulisse in his search of "wisdom" and "morality" comes to mind.
The motif of "ship wreckage" continuing to contemporary poetry or the reevaluation of Italian and French 16th century secular travelogues and many other stimulating "routes" were pointed out, a "sea map" leading to the widening of the very frame of "literature" was spread out in Komaba.
(Nov. 3rd original report: Mariko Muramatsu, English translation: Dennitza Gabrakova)