Title:

Workshop: Perspectives on Oshima Nagisa

終了しました

Date:

2014年6月29日(日)13:00-18:00

Place:

東京大学駒場キャンパス18号館4階コラボレーションルーム2
Workshop: Perspectives on Oshima Nagisa
Date: Sunday, June 29th, 2014, 13:00-18:00
Venue: Collaboration Room 2, Bldg. 18 (4F), The University of Tokyo Komaba Campus
Language: English | No Registration Required | Admission Free
Abstract
Variously described as a leader of the new wave, a traditionalist, or a political modernist, on closer scrutiny Oshima Nagisa seems to defy all of these categories. It is striking that today, fifty-five years after his début as a director, there is only a nebulous sense of agreement about the significance of his films. Oshima is of course widely regarded as one of the most important directors of his generation, but if his films have remained some of the most unusual and discussable productions of the postwar Japanese cinema, it is not only due to their daring themes and unusual approach to formal experimentation, but equally because they remain deeply ambiguous works that compel us to think beyond their limits as individual films.
While Oshima has been frequently characterized as a "radical iconoclast" or member of the postwar avant-garde, this interpretation has equally tended to simplify our understanding of his multifarious interests and their complex engagement with Japanese cinema, society, and history. It seems fair to say that the experience of viewing Oshima's films prompts us not only to question the specific historical and social forms which they depict, but to similarly question the received image of Oshima himself. As we trace his career from the studio system to a quasi-independent and finally independent director, we find ourselves asking: what are the limits or possibilities of a production system, of a mode of film production? How might we think about Oshima's relationship to Japanese cinema outside of an auteurist frame? Extant writing on his works in English has left much of this terrain under-explored, and there is today a marked discrepancy between it and a significant body of more recent criticism in Japanese.
This afternoon workshop will explore some of these questions concerning Oshima, and his relationship with Japanese cinema in the 1960s and 70s. The participants will offer a broad spectrum of conceptual approaches, drawing on historical and theoretical modes of analysis. We propose to both reconsider familiar problems, and to explore new ones. We will examine, among other topics, Oshima's significance for the culture of film retrospectives, his role in the expression of some of the key theories of ideology in film studies, his visualization of state power, his relationship with popular cinema, and his perspectives on political cinema. Through this exploration, we seek to gain a richer understanding of these singular films, of new interpretive approaches, and of some of the critical possibilities of cinema itself.
We invite you to join us on Sunday, June 29th, for an afternoon of presentation and lively discussion.

Program
13:00
Oshima Nagisa × Retrospective
Ogawa Shota (University of Rochester)
14:00
The Effective Presence of a New Reality: Ideology and Subjection in Oshima's Kōshikei (1968)
Max Ward (Middlebury College)
15:00
Proxy Wars: Oshima/Yakuza
Phil Kaffen (New York University)
16:00
Oshima Nagisa on Responsibility and Premonition: Shiiku (1961) and Amakusa Shirō Tokisada (1962)
M. Downing Roberts (UTCP)
17:00
The Voice of the Dead: The Image of the State and Postwar Democracy in Oshima Nagisa's The Ceremony (1971)
Misono Ryoko (University of Tsukuba)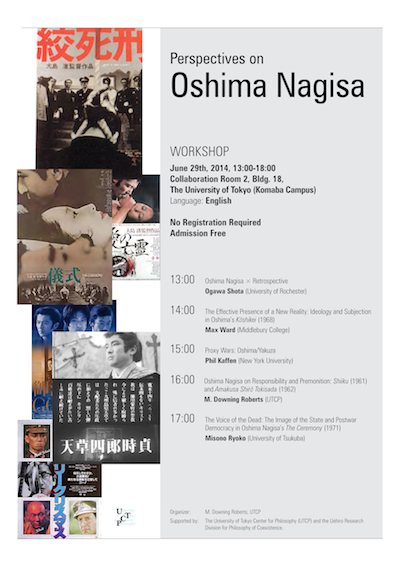 Organizer: M. Downing Roberts, UTCP
Supported by: The University of Tokyo Center for Philosophy (UTCP) and the Uehiro Research Division for Philosophy of Coexistence.