Title:

International Forum "The Sublime and the Uncanny"

終了しました

Date:

2015年3月2日(月)-4日(水)

Place:

New Conference Room, Sofia University "St. Kliment Ohridski", Sofia
The international forum "The Sublime and the Uncanny" will be held between the 2nd and the 4th of March 2015 in the New Conference Room of the Sofia University. It is organized by the University of Tokyo Center for Philosophy (UTCP), the Sofia Literary Theory Seminar and the Cultural Centre of Sofia University. The forum is interdisciplinary and focuses on the notions of 'the Sublime' and 'das Unheimliche', which play a crucial role not only in 20th century but also in contemporary critical discourses.
It will pose the question of the correlation and heuristic potential of these notions in the time of redefinition of the understanding of human intellect, respectively - the status of the (in)human. The forum will expose in a new perspective the topics of the "Metamorphosis and Catastrophe" symposium, held at the beginning of November 2013.
Interventions on the topic "The Sublime and the Uncanny" will be presented by Boyan Manchev, Futoshi Hoshino, Kamelia Spassova, Yuji Nishiyama, Darin Tenev, Takafumi Shimada, Bozhana Filipova, Hisato Kuriwaki, Maria Kalinova, Miglena Nikolchina
The forum is open to the public. Working language is English.
March 2nd (Mon): 18:00
Opening: Kamelia Spassova
Lecture: Futoshi Hoshino, "Materialist Aesthetics: Bourriaud, Harman, Rancière"
Discussion: Boyan Manchev, Kamelia Spassova
March 3rd (Tue): 10:00-18:00
New Conference Room, Sofia University
Morning session (10:00-12:30): Introductory session and open discussion (1) on "the sublime"
Afternoon session (14:00-17:00): Presentations
Yuji Nishiyama, "After the End of the World: Of an Apocalyptic Tone in Derrida's Later Years"
Darin Tenev, Enyo Stoyanov "The Literary Uncanny"
Takafumi Shimada, "The Idea of History as the Difference of Force"
Bozhana Filipova, "The Uncanny Space of Theater: Notes on Joyce's 'Circe'"
March 4th (Wed): 10:00-18:00
New Conference Room, Sofia University
Morning session (10:00-12:30): Introductory session and open discussion (2) on "the uncanny"
Afternoon session (14:00-17:00): Presentations
Hisato Kuriwaki, "Existence and Revolt: From Kristeva's Lectures on Sartre"
Futoshi Hoshino, "Sublime and Capitalism in Jean-François Lyotard"
Maria Kalinova & Kamelia Spassova, "Das Unheimliche: the Lack in Translation"
Boyan Manchev, "The Political Unheimlich: After Michel Surya's L'autre Blanchot"
Final discussion, moderator: Miglena Nikolchina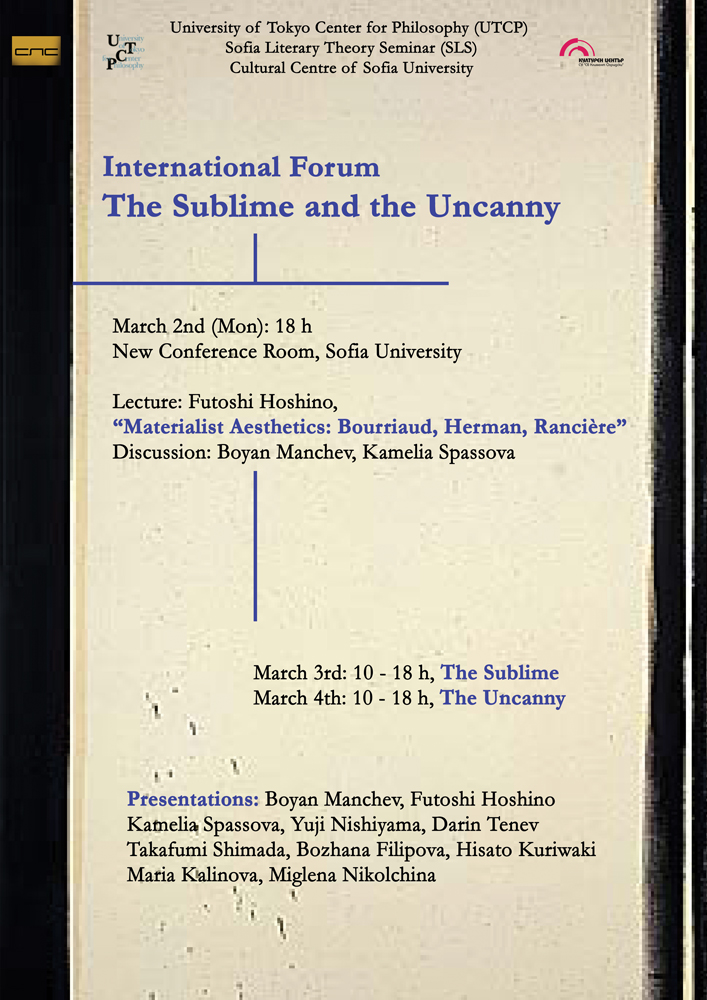 Organized by:
University of Tokyo Center for Philosophy (UTCP)
Sofia Literary Theory Seminar (SLS)
Cultural Centre of Sofia University
Supported by:
Uehiro Research Division for Philosophy of Coexistence, UTCP
JSPS KAKENHI Grant-in-Aid for Young Scientists (B) (Grant No. 25870161)