Title:

Graduate Student Workshop on Secularization, Religion and The State

Finished

Date:

9:00-18:20, January 21, 2010

Place:

National University of Singapore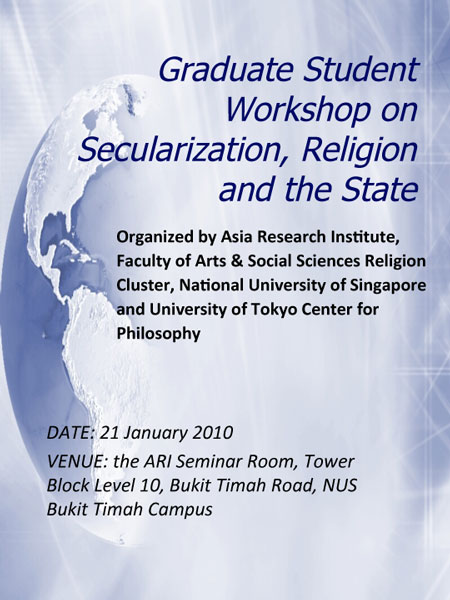 [Announcement]
This workshop will bring together graduate students from Tokyo University and the National University of Singapore to examine the historical formation of concepts of secularization and religion in several countries, as well as interrogations of various conceptions of modernity involved in these processes. Particular attention will be directed toward understanding the relations between religion and the state in the contemporary world from a comparative perspective. These discussions will be based upon ongoing work on these issues being carried out at Tokyo University and NUS. Bringing together young scholars working on this timely subject at both of these institutions can help to develop possibilities for future research on religion and society in modern Asia from a wide range of disciplinary perspectives, including sociology, anthropology, history and philosophy.
The workshop will open with presentations by Professor Prasenjit Duara
(NUS) and Professor Haneda Masashi (Tokyo) that will provide an overview of work being done on this topic at their respective institutions. The remainder of the programme will then be comprised of panels featuring the work of graduate students.
[Programme]
Graduate Student Workshop on Secularization, Religion and The State Organized by Asia Research Institute, Faculty of Arts & Social Sciences Religion Cluster, National University of Singapore and University of Tokyo
Date: 21 January 2010
Venue: the ARI Seminar Room, Tower Block Level 10, Bukit Timah Road, NUS Bukit Timah Campus
Program:
08:30 – 09:00
REGISTRATION
09:00 – 09:40
WELCOME REMARKS
09:00
Associate Professor Michael Feener
Asia Research Institute and Department of History, National University of Singapore
09:10
Professor Haneda Masashi
University of Tokyo Centre for Philosophy
09:25
Professor Prasenjit Duara
Humanities and Social Sciences Research, National University of Singapore 09:40 – 10:40 PANEL 1
Chairperson: Dr Daniel Goh
Asia Research Institute and Department of Sociology, National University of Singapore
09:40
Mariko Naito
University of Tokyo Centre for Philosophy "Rethinking the Dichotomy between Religious and Secular: The Emergence of Religion in Modern Japan"
10:00
Rodney Sebastian
Department of Sociology National University of Singapore "Reviewing Singapore's Secularization Model"
10:20
QUESTION & ANSWER SESSION
10:40 – 11:00
MORNING TEA
11:00 - 12:00
PANEL 2
Chairperson: Prof Ian Harris
"Asia Research Institute National University of Singapore"
11:00
Naofumi Abe
University of Tokyo Centre for Philosophy "Who Acknowledges His Right?": Prelude to the 'Modernization' of Judicial System in Mid-Nineteenth Century Iran as seen in Persian Legal Documents
11:20
Siriporn Dabphet
Department of History National University of Singapore "State and Religion: Relationship and Changing of State and Religious Ideology in the Nineteenth-century Thailand"
11:40
QUESTION & ANSWER SESSION
12:00 – 13:00
PANEL 3
Chairperson: Dr Juliana Finucane
Asia Research Institute, National University of Singapore
12:00
Yoichi Isahaya
Department of Area Studies University of Tokyo "Vicissitudes of Nourūz / New Year's Festival in the Iranian Context"
12:20
Hong Ciyuan Lily
Department of Chinese Studies National University of Singapore
"Literati: The Negotiators of the Chinese State and Locales in Ming Dynasty"
12:40
Goh Yu Mei
Department of Chinese Studies National University of Singapore "Old Scriptures in New Language: A Study of Discourse in Modern Yuli Baochao"
13:00
QUESTION & ANSWER SESSION
13:30– 14:30
LUNCH
14:30 – 16:00
PANEL 4
Chairperson: Assoc Prof Michael Feener
Asia Research Institute and Department of History, National University of Singapore
14:30
Noriko Kanahara
University of Tokyo Centre for Philosophy "Japanese Religious Spirit in the Writings of Tadakazu Uoki during the World War II"
14:50
Tay Wei Leong
Department of History National University of Singapore "Kang You Wei, the Martin Luther of Confucianism and His Religious Nationalism and Modernity"
15:10
Chikara Uchida
Department of Area Studies University of Tokyo "A Viewpoint of 'Secularization, Religion and the State': Japanese Historian AMINO Yoshihiko and his Concept of 'People'
15:30
QUESTION & ANSWER SESSION
16:00 – 16:20
AFTERNOON TEA
16:20 – 17:20
PANEL 5
Chairperson: Dr. Julius Bautista
Asia Research Institute & Southeast Asian Studies Programme, National University of Singapore
16:20
Akiyoshi Ono
Department of Language and Information Sciences University of Tokyo "Europe, Civilization and Christianity: Victor Hugo and the Problem of Human Rights at the Time of Algerian Conquest and Laicization"
16:40
Shoko Watanabe
Department of Area Studies University of Tokyo "To be Religious and to be Political in Colonial Algeria: The Ulama and the Nationalists in the 1950s"
17:00
QUESTION & ANSWER SESSION
17:20 – 18:20
PANEL 6
Chairperson: Dr Chiara Formichi
Asia Research Institute, National University of Singapore 17:20 Norshahril Bin Saat Department of Malay Studies National University of Singapore "The State, Ulama and Religiosity: Rethinking Islamization of Contemporary Malaysia"
17:40
Allan Lee
Department of Sociology National University of Singapore "The Advancement of Christ's Kingdom" in Two Cities: A Comparative Study of State-religion Relations in Singapore and Malaysia"
18:00
QUESTION & ANSWER SESSION
18:20
CLOSING REMARKS & END OF WORKSHOP
18:45
WORKSHOP DINNER For Chairs, Speakers and Invited Guests only